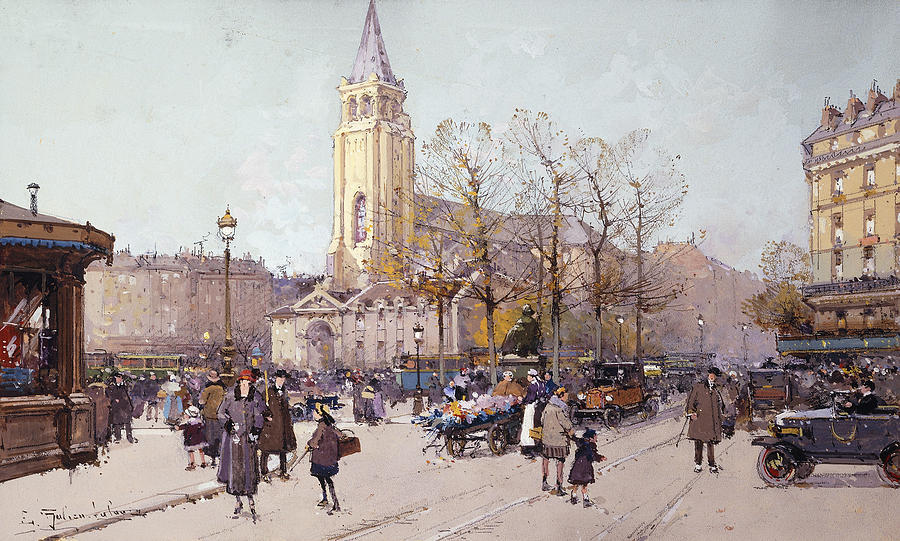 L'Eglise de St Germain des Pres by Laloue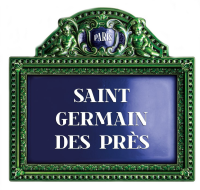 One of the many remarkable things about Paris is that there is hardly a street or a building which does not have some sort of history attached - some more and some less, but all of them fascinating in some way or other.

For the first time visitor to Paris, it is almost compulsory to see the famous sights of the city - the Eiffel Tower, Les Invalides, Notre Dame and so many others, but if you wish to capture the essence of the city it is necessary to seek out the hidden corners or the seemingly innocuous buildings to uncover their secrets.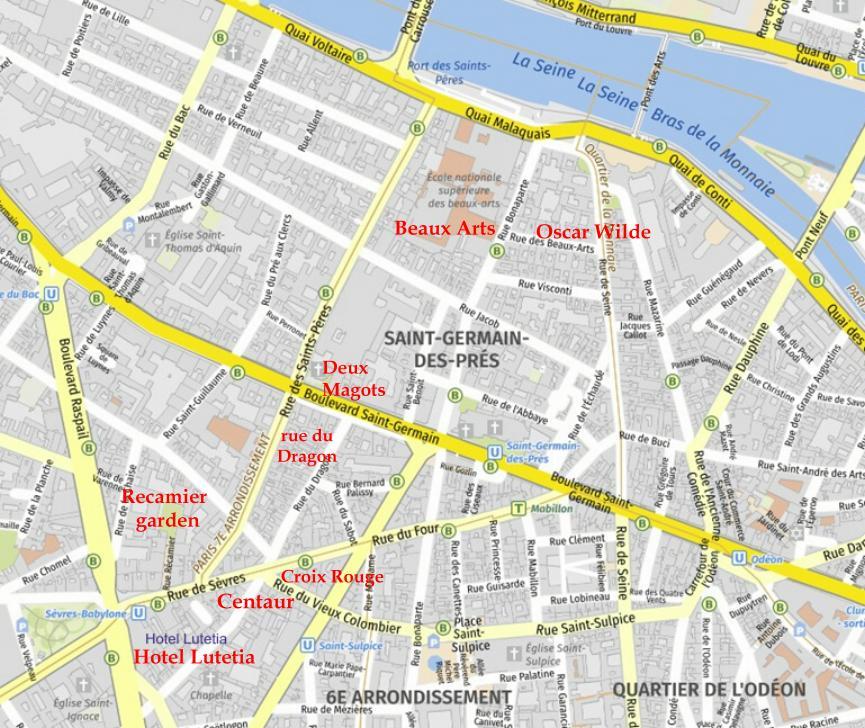 Even just a short walk will reveal historical associations from every era and most of time you will be following in the footsteps of the great and the good , and the not so good people, who made the city what it is today.
The following ramble, which is no further than a mile or so, is crammed with so any places of interest, I have reluctantly omitted  several.  It is just one of many such walks through the streets of Paris.  The walk begins bottom left at Hotel Lutetia.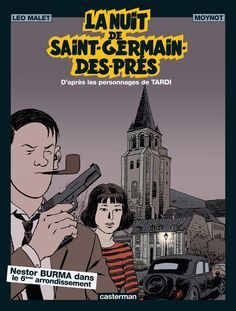 If you exit the Métro  station Sèvres – Babylone, you cannot miss the Lutetia which takes up virtually the whole block on no 45 Boulevard Raspail.  Built in 1910, the Lutetia is reminiscent of Gaudi's Casa Batlló in Barcelona, with the very name of Lutetia having historical connotations - Lutetia was the pre-Roman town that pre-dated Paris. 
The number of celebrated guests is legion and includes Henri Matisse, Pablo Picasso,  André Gide, Peggy Guggenheim, Josephine Baker, Ernest Hemingway, Samuel Becket, André  Malraux,  Saint-Exupéry, Samuel Beckett who wrote several chapters of Ulysses here, and a young army officer named Charles de Gaulle, who spent his honeymoon night here in April, 1921, and 20 years later left here for exile in England, leaving behind a trunk which he recovered on his victorious return in 1945.

Although in other circumstances the Lutetia's superb architecture and long list of celebrities would be enough to regard the building as one of the finest hotels in Europe, it was the war years and their aftermath which truly defines the Lutetia.  When war was declared in September, 1939, many artists of every genre, fled from endangered countries and found refuge in the Lutetia, which was well-known for its connections to the world of music and painting.  However, when the Nazi's occupied Paris in June, 1940, many of the residents were captured while others escaped, and the Abwehr occupied the building.  The Abwehr was the official intelligence and counterintelligence service of the German military  and as such its main task was to break the Resistance and capture its leaders.  The Lutetia was teeming with German code-breakers, spies, informers, collaborators, and Nazi-sympathisers, and rumours of torture persist - and those post-war films we all know so well, of moonlit nights and agents parachuting down into the arms of waiting Germans and early morning hammering on doors by men in overcoats with the collars turned up - those agents were more than likely to have been Abwehr based in the Lutetia.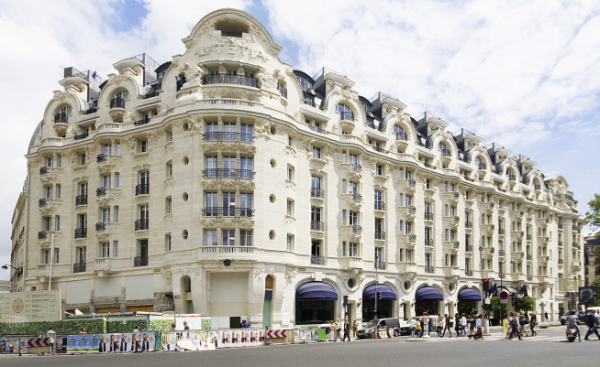 Unquestionably, the most poignant era in the history of the Lutetia was after the war ended and the hotel was requisitioned as the place of repatriation for concentration camp survivors and prisoners of war, with relatives posting pictures of their loved ones on the walls in the hopes that someone would recognise them.  Parisians gathered daily to await the busloads of camp survivors and there were many harrowing scenes when survivors of the camps arrived still in their tattered camp uniforms to be greeted by wives and children, horrified by their skeletal condition; even more harrowing was when anxious relatives were told their loved ones would not be returning at all and had died years previously.  It is quite telling that the Lutetia has no plaques on its walls of its famous guests, nor anything to recall the years of German occupation, but there is a plaque to the time when the hotel was a repatriation centre - possibly it's best and worse days.
               If you walk around the corner of the Lutetia and onto Rue de Sévres, just  a few yards along the boulevard you will arrive at a tiny cul-de-sac called Rue Récamier.  At the end of the cul-de-sac is a tiny garden which is a haven of tranquillity where locals go to read a book or reflect upon life as they sit beneath the Bamboo and the Russian vines and listen to the tiny waterfall.  The garden was landscaped in 1933 and called Square Récamier, in memory of the courtesan who once lived on this site.  The Square remained Square Récamier for a full 75 years until in 2008, the good people who run la mairie decided it would be a good idea to change the name to Square Roger-Stéphane.  Roger-Stéphane was undoubtedly a good man and his claim to fame is that he helped in the liberation of Paris in 1944 - but so did many other people and you have to ask why did it take so long after the war for la mairie to commemorate his name at the expense of Madame Récamier ?  it's quite interesting to note that the booksellers and shopkeepers will look at you blank if you ask where the Square Roger-Stéphane is located but will happily point it out as Square Récamier.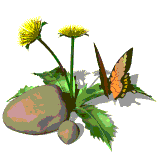 Madame Récamier (1777 - 1849) was born an only child in Lyon in 1777 and christened  Jeanne-Françoise Julie Adélaïde but always called Juliette.  Her father, Jean Bernard, was the King's counsellor who moved the family to Paris when Juliette was quite young.  Aged just 15, Juliette was married in April, 1793, to Jacques-Rose Récamier, a banker who was nearly 30 years older; in a age when marrying an older man was quite common, a difference of 30 years was just a little breathtaking, and a rumour persists that Juliette's husband was in fact her natural father.  If it is recalled that the year of their marriage, 1793, was the height of Revolutionary excesses in the form of The Terror, as an aristocrat,  Jacques-Rose would have been in great danger of being guillotined and as his immediate heir, Juliette would have inherited his estate.  The rumour took on further credence when the marriage was never consummated and Juliette remained a virgin until her 40's.  Juliette's father was in fact arrested and as the King's notary, bound for the tumbrils, until Juliette's friendship with Bernadotte paid dividends and he intervened to save her father.  Given that many of her friends were Royalists, her father had been arrested as a Royalist and Juliette was of aristocratic birth, she led a charmed life avoiding the attentions of the Revolutionaries.
Madame  Récamier by Gérard

As time went by, Juliette traded on her love of literature. her renowned beauty and not least her charming and coquettish manner with men, who flocked to her salon on rue de Mont-Blanc in the building once owned by the King's finance minister Necker at the rear of L'Opéra.  As the fervour of Revolutionary Paris evolved into the time of the Directory and ultimately the Consulate, Juliette's salon became renowned throughout Paris, encouraging artist and writers such as  Lamartine, Sainte-Beuve, Balzac, François Gérard, Joseph Chinard, Antonio Canova, and actors such as Talma.  Her reputation as a great beauty was enhanced even further when she became part of a triumvirate which included  Joséphine de Beauharnais and Madame Tallien, both of whom had escaped the guillotine by a matter of days.  Nevertheless, Juliette appeared to be a principled woman, and her decision to refuse Joséphine's offer to be her lady-in -waiting and more importantly her refusal to become another of Napoleon conquests , led to her being exiled by a furious Bonaparte.  After spending 3 years in Rome, where Canova made two busts of her, Juliette returned to Paris in 1814 and in 1817, she met  François-René, vicomte de Chateaubriand who was a French writer, politician, diplomat and historian who founded Romanticism in French literature.  Juliette's meeting with Chateaubriand coincided with a reversal of her husband's financial affairs and in 1819 she moved into a new home called Abbaye aux Bois where she created a new salon, with another never-ending number of illustrious visitors, and remained friends with Chateaubriand for the rest of her life.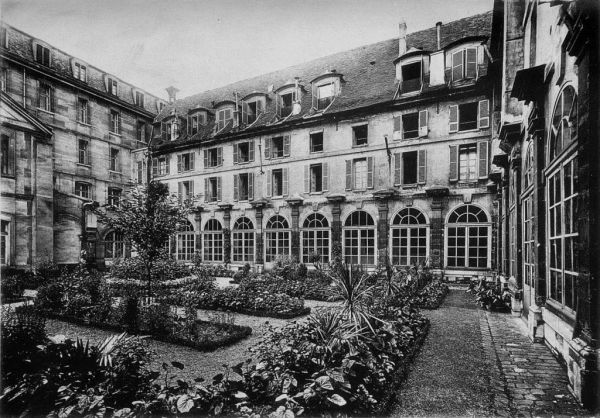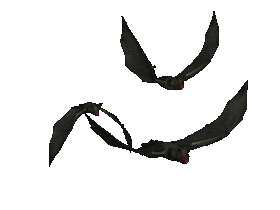 Madame  Récamier's new home, Abbaye aux Bois, where she would  live from 1819 until her death in 1849.  At the time, she was in financial difficulties and the apartments she rented were deemed to be something of a come-down in the world. - in her world anyway.   

Juliette Récamier's new home was a wing of a 16th century Abbey called Abbaye aux Bois where a number of nuns were settled under the auspices of Anne of Austria in 1654.  The building was ancient even then and the nuns rebuilt much of the building in 1718.  In 1792, in common with many religious buidings around Paris, the Abbaye was appropriated by sans-culottes, and served as a prison during the Reign of Terror.  When the excesses of the Revolution were over and the Abbaye abandoned by the Revolutionaries, the building was sold as a private residence, with a private school for young ladies taking up much of the building and one wing converted into a nursing home.  The nursing home wing was eventually where Juliette Récamier settled and was situated exactly on the site of the garden which is why it was named Square Récamier.

For 30 years Juliette's salon continued to host intellectuals, writers and artists and politicians adding Germaine de Staël, Eugène de Beauharnais, Marshal  Masséna, Beau Brummel, Georgiana, duchesse de Devonshire, Lucien Bonaparte, Sir Humphrey et Lady Davy, François Arago, Honoré de Balzac, Victor Hugo, Eugène Delacroix, Alexis de Tocqueville, Alfred de Musset, Henri Beyle, Stendhal et Mme de Genlis and so many others to her list of visitors.  Her rooms were decorated with the finest silks and drapes, with paintings on the walls of her favourites, including the ever faithful Chateaubriand who died just one year before Juliette herself. 

Juliette's reign as the finest hostess in Paris, ended in 1849, when she died of cholera at the Abbaye.   Victor Hugo left a touching account of her final days. 

M. de Chateaubriand, at the beginning of 1847, was a paralytic; Mme. Récamier was blind. Every day at 3 o'clock M. de Chateaubriand was carried to Mme. Récamier's bedside. It was touching and sad. The woman who could no longer see stretched forth her hands gropingly towards the man who could
no longer feel; their hands met. God be praised! Life was dying, but love still lived
.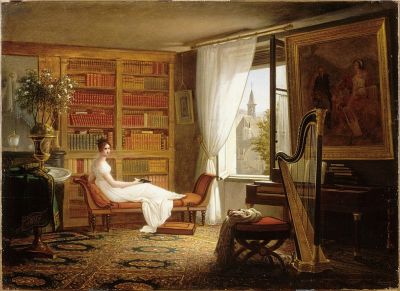 The many oil-paintings made of her by the greatest artists of the day testify to Juliette's beauty, and also to her great popularity - most of the paintings show her reclining on a particular type of recliner which today is still called a récamier.  The above picture was painted in the Abbaye aux Bois.

It would be a mistake to think that Juliette Récamier's salon was a place where intellectuals came together to discuss esoteric subjects long into the night, to the exclusion of all else.  The salon was where the salonnière introduced her guests to her good taste in furnishings and plied them with good food, possibly which they had never tasted before, wines and other drinks would be on hand and a convivial atmosphere would be de rigeur.  The good  salonnière would ensure that her guests would be certain to get on with each other and sometimes michievously introduce some who did not get on with each other.  Juliette's renowned beauty was a great attraction and she encouraged debates and lively discussions, where people exchanged ideas and views and not least introductions.  

In the picture on the right Juliette is shown reclining in her usual manner as her guests, who are all male, mingle and converse earnestly.  The salon is in the Abbaye aux Bois.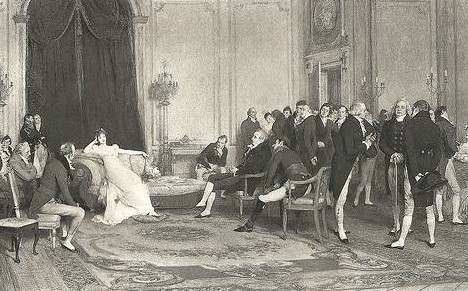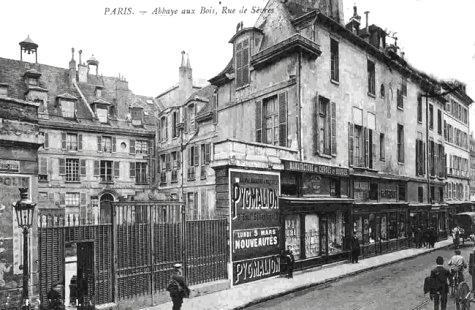 In the latter years of the 19th century the Abbaye Aux Bois began a decline which would culminate in its destruction; following a French decree in 1904 that religious teachings should be abandoned, it signalled the end for the Abbaye which was torn down in 1907.   
The postcard on the left, circa 1900, 
shows a rue de Sévres which has
now vanished into the past, with
the ancient Abbaye awaiting demolition. 
It was a part of Paris that Victor Hugo knew
well and wrote of with affection in
his descriptions of old Paris are a feature of
Hugo's great book and one wonders
if the Abbaye featured in the section
where Jean Valjean takes shelter in an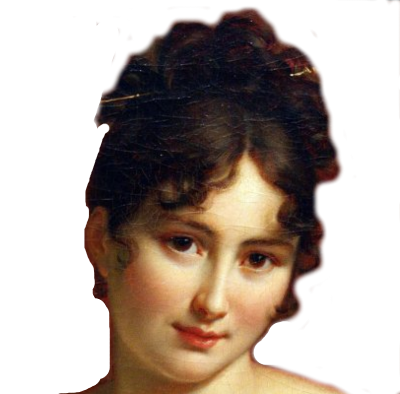 If you turn left as you emerge from Rue Récamier, in order to walk down to Boulevard St Germain via rue de Sévres, it should take no more than a few minutes.  However, this is Paris and one of the most delightful things about roaming the streets of Paris is that no matter where you set out to go there are so many other distractions;  this area is no exception, and a few steps down the rue de Sévres, on the right hand side, on the corner of rue du Cherche-Midi, is a most unusual statue standing on a plinth.  The quirky statue has stood there since 1985 and represents a Centaur with its face being that of its sculptor, called simply César - if you know that César also sculpted Le Pouce, which is a giant thumb emerging from the concrete surface at La Défence, then you won't be surprised at this representation of a Centaur.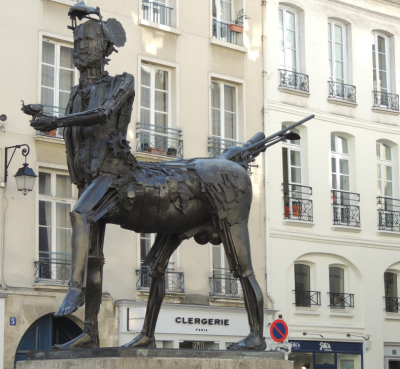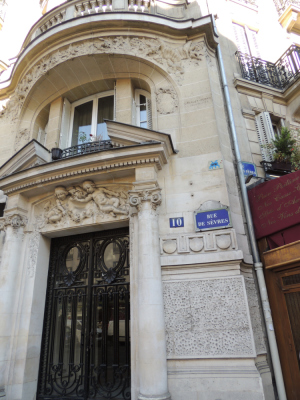 Then again. if you looked too hard at this strange statue, then it would be be easy to miss the superb façade as you stroll along rue de Sévres.  It's not an unusual sight in Paris to see such superb entrance places to private property, but anywhere else, they would be listed buildings
It takes quite an effort not to walk along rue du Cherche-Midi ( which means a sundial at midday) but it's rather a long street and is going in the wrong direction anyway.  So, carrying on along rue de Sévres. there appears a sinuous curve which leads down to one of those delightful carrefours where several streets tempt you like sirens and it is so easy to be diverted from your path.  The carrefour is called Place Michel Debré after a Résistant and Gaullist during the war and there is one of those unique cafés which are irresistible to any passer-by.  The café is called La Croix Rouge and retains the name of the square before it was changed to Michel Debré - La Croix Rouge was a Revolutionary splinter group active in this area during the Revolution; I must say that I am not happy with revisionist history and there appears far too much of it going on in Paris --you can't erase history and Monsieur Debré and Roger-Stéphane  should have found gardens and squares of their own instead of usurping others.

As delightful as it is to sit in the sunshine outside the Bar de la Croix Rouge, there is still an itinerary to follow and despite our various meanderings we are slowly moving down to the heart of St Germain des Prés.

The problem is that we are seated in one of those delightful

carrefours with streets radiating from each part of the square - every one of which looks deliciously tempting; from the rue des Vieux Colombiers which I know leads to the church of St Sulpice and its superb fountain in the courtyard, to the rue du Four, which takes us to where we want to go, and the rue de Grenelle which looks quite enticing.  But who could resist a street called the rue du Dragon which is just yards away from the Bar de la Croix Rouge - and yes it looks dark and a little gloomy and is very narrow and not very long but it has a certain je ne sais quoi. 

The houses  in rue du Dragon are circa early 1700's and a testament to the skill of the original builders.  There is a plaque above every other door commemorating mostly French writers with the one above number 30 dedicated to Victor Hugo who lived here in 1821 aged just 19.  From the numbers of writers commemorated it is easy to discern that the street was once a colony of French authors.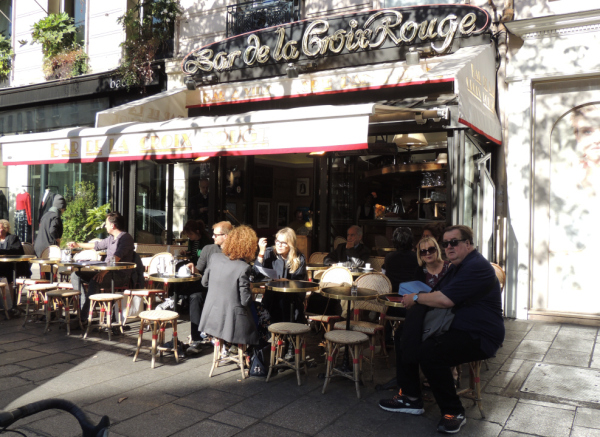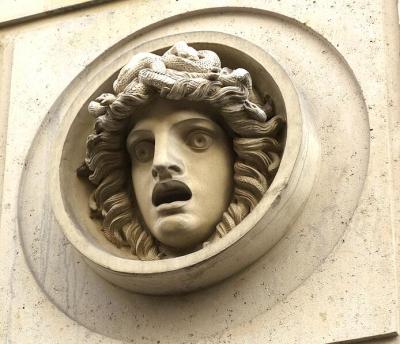 The rue du Dragon was originally called rue du Sépulcre before 1808 when the name was changed in recognition of a nearby court.  There was once a street which ran parallel to rue du Dragon called rue de l'Egout (an égout is a sewer) - off this street they built a court in 1730 which housed the workshops of  steelworkers, coppersmiths, and lead and iron workshops.  The court ran from rue de l'Egout to the rear of No.7. rue du Dragon but strangely never pierced it, so that cour du Dragon remained a cul-de-sac until an entrance was broken through at a later date. 
There was always something wonderfully medieval about the court and the architecture at the curved entrance was quite unique but when Paul Ambroise Stodtz (1702 - 1758) sculpted a version of  Saint Marguerite's Dragon soon after it was built and placed it above the monumental entrance, it became a special place and was ever after known as the cour du Dragon.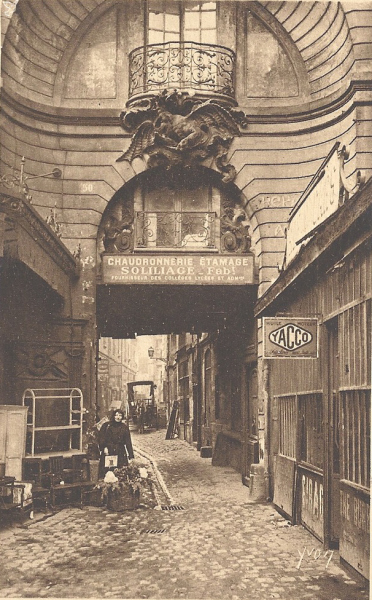 The cour du Dragon and rue du Dragon remained as singularly unique aspects of a Paris which was slowly vanishing beneath the wrecking ball in order to create the Grand Boulevards.  Victor Hugo, of course, knew these places well and, knowing the value of these ancient sites incorporated "old Paris" into Les Misérables and his other novels as a matter of course.  The cour du Dragon was also recognized by others who value conservation and as early as 1820 the street was declared a National Monument which should have preserved it to this day. 
However, after many years of escaping municipal road-widening schemes and the building of blocks of apartments, and despite efforts to save it, the cour du Dragon was finally demolished in 1934.  It was intended to save the superb gateway and the Dragon sculpture but unfortunately it fell to pieces in the process. 
The coming of World War 11 delayed matters and the court remained derelict until 1955 when modern architecture took its place.
There is a copy of the Dragon in the Louvre and another above the doorway of no. 50 rue de Rennes - but nothing can really replace the real thing.
It's easy to see how a short walk in Paris can turn into a major expedition - there are so many diversions !  I did intend for this walk to be just one web page but if you want to see the rest then you will have to turn to Paris St Germain 2
 Like to comment or ask a question ?  Go to ;